Tuesday November 29 2016 Filed in:
weather show new work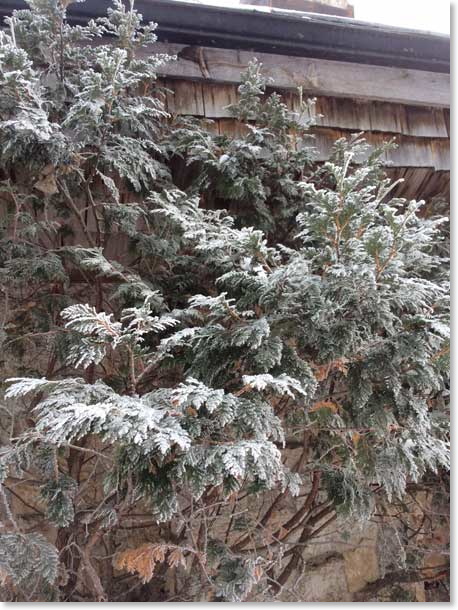 The start of November was very warm and sunny. We had our opening reception November 6th for our painting and fibre exhibition "Life" and I wondered if many people would be going to the lakes to open their cottages.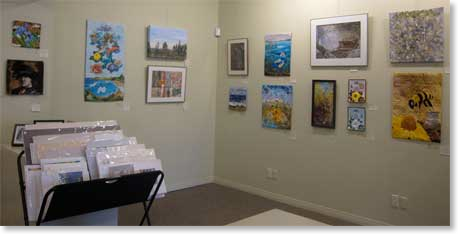 However we didn't have to worry as people started to arrive thirty minutes before we were due to open! It was crowded for the whole time and the show seemed to be well appreciated. It was good to see old friends, some of whom I hadn't seen since our last show in St. Boniface back in 2014. Kathleen and I also gave a short talk half way through the month which was also very successful. Tomorrow we go and take everything down – always a sad time.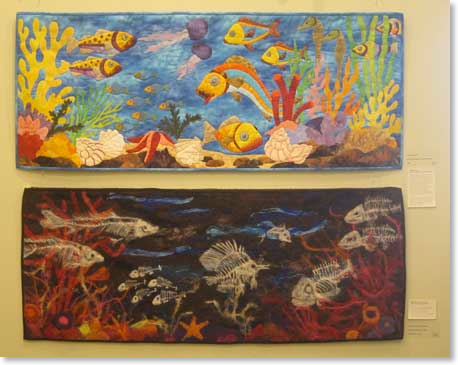 The weather stayed warm and fine until the last week of November and my husband Richard and I have been able to take our walks outside using part of the cross Canada Trail between the two River Roads and Lower Fort Garry that has recently been completed. Now with freezing rain and more snow expected I guess its back to the old treadmill until next spring!
I have finally finished both pieces for the Botanical Reflections exhibition in Vancouver – even to naming them and making their labels. They are now called "Phalaenopsis" and "Nymphaea" Thought that as they were going to be in the gallery of the Van Dusen Gardens for their initial venue they should have botanical names!
The next exhibition that the Fibre Art Network is going to be involved with is going to be called "Conversations" and once again it will be a pairing of two fibre artists from the group. So far it is only in the planning stage and has consisted of emails back and forth with various ideas flooding between myself and the artist I have been paired with who lives in British Columbia. Hopefully there will be more about this once we get to the drawing and fabric stage.
When Kathleen and I remove our work from Wayne Arthur Gallery tomorrow we will also be bringing in our pieces for the gallery group show "How does your garden grow?" I decided to try something totally different for this show – because there are forty nine other artists in the show I wanted it to be fairly small. As it is winter and actually there is nothing growing in my garden I used fallen oak leaves as my inspiration.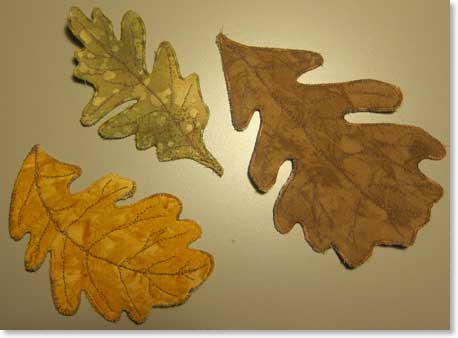 Having fused two different fabrics to each side of a heavy support I cut my shapes and then using my sewing machine I embroidered veins on each and then sewed all the way around the shape. I wanted them to have dimension so I used Best Press, which is a clear, scent free starch alternative, to wet them and then I formed each leaf around various forms so they were curled just as the ones I'd brought into the studio to study from the yard.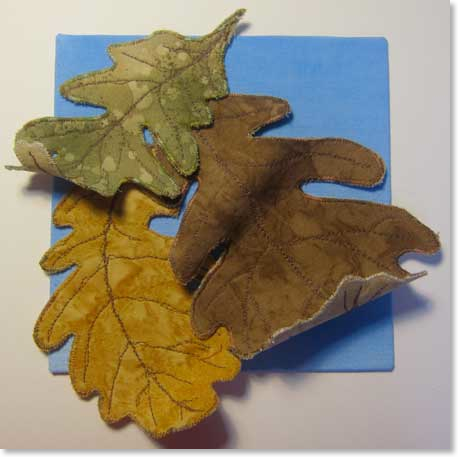 I left the sewn leaves overnight to dry and keep their form and then had to decide how to arrange them so that I could attach them to a mat and then frame them. I had bought a 1.75" deep frame and was very pleased with the finished result. I found, however, it is very difficult to take a good photograph through glass!