Overnight we dove into winter and our first real snowfall of the season. I went out early to take some photographs expecting mine to be the first to damage the newly fallen snow. I should have known better – there were tracks of birds, rabbits, squirrels and what I think were paw prints of foxes throughout the entire area – now there are also my foot prints. These two photographs are of the same view – a day apart!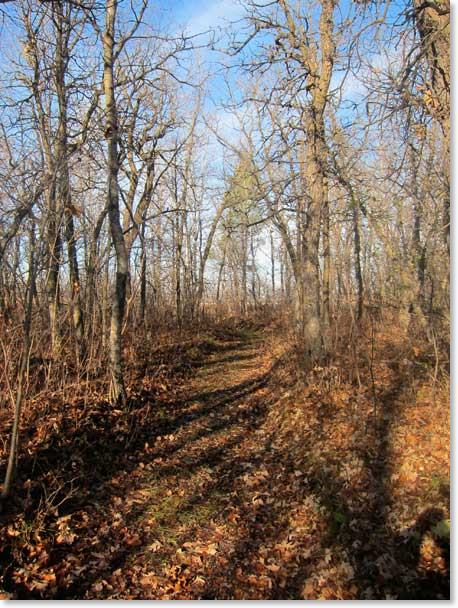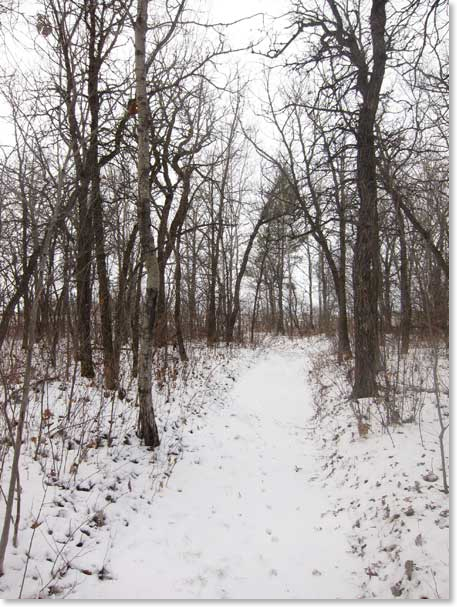 The day the snows arrived was also the day of our Fibre Divas meeting. Unfortunately I didn't go as the highways were a mess. That is the disadvantage of living further out of the city. Its quiet and we see many varieties of wildlife but sometimes its just too difficult to venture forth.
The river started to freeze over the weekend – there were snow covered patches drifting north but then we had a couple of days of around zero temperatures and it is now flowing open again. Probably not for long. Saw one large skein of geese flying south yesterday but all is quiet now.
Unfortunately my orchid lost the last of its flowers last week. It has totally amazed me how long it was in bloom. So far there is no sign of anything else growing but I will keep hoping.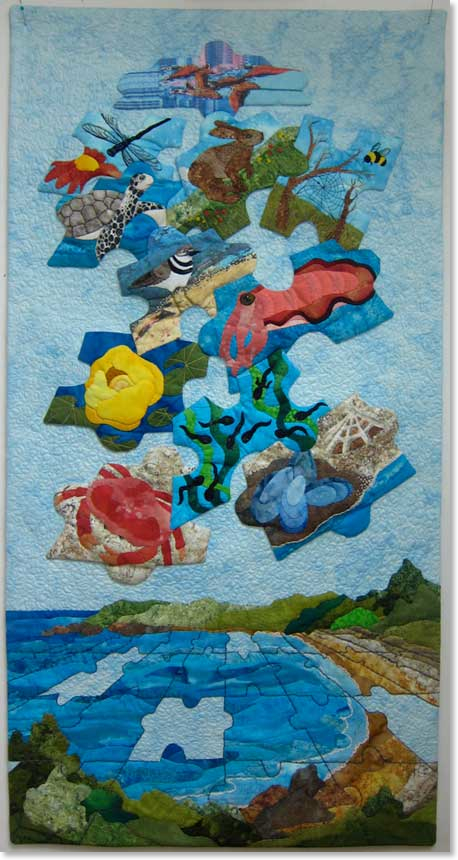 Well I finished the last of the work on the jigsaw hanging – all it needs now is a title, a label and a hanging rod. It has taken a long time to get to this stage but I did work on several other pieces in between.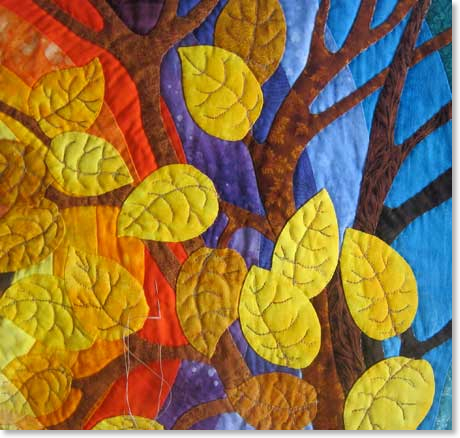 I have been working on my Ekphrastic hanging. I am still in the hand quilting stage having completed the hand and machine embroidery.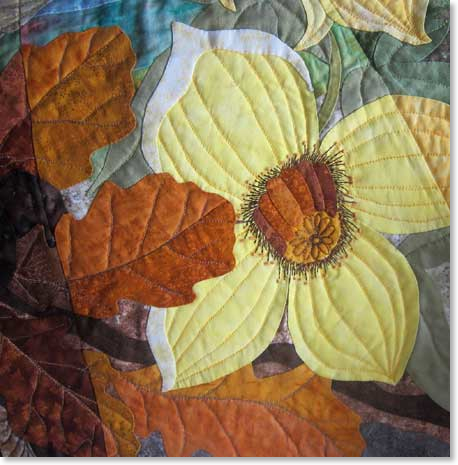 Have also been doing much experimenting with using foils and gold leaf. My ordered sheets of gold and red gold plus the glue arrived and so I went to work. It is a very non-exact medium and I am the exact opposite! So if I do use them it will be a very small amount – not at all what I had originally planned. When I first started playing I didn't realize you couldn't iron it then I found that if you do you are left with grey dirty looking glue.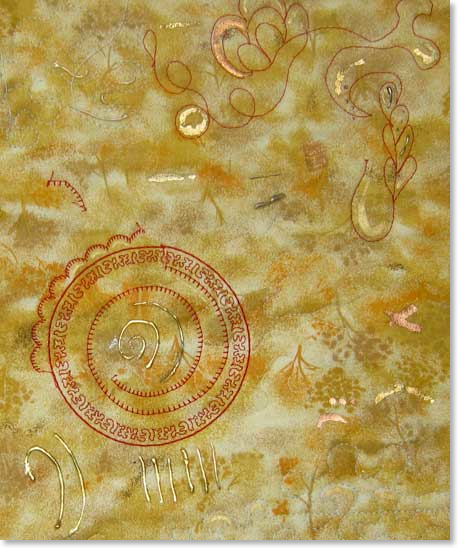 In the photograph there are small examples of foil, gold acrylic paint and gold and copper leaf – all using different glues and even some of the dirty grey glue after the foils were ironed! I am still not sure when the hanging is due but as some of the artists have only just started to think about their designs I have time. Hopefully by the next blog I will have a finished hanging to photograph_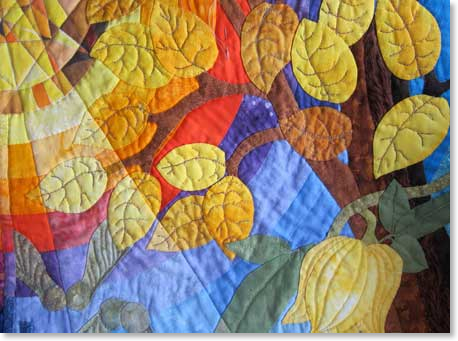 Went yesterday to visit the Gaynor Family Library in Selkirk – what a beautiful library – large, bright, plenty of seats and computers and even a very pleasant little café and bakery called Ubuntu. Kathleen and I had gone in specifically to look at the walls as we each will have five pieces of our work in there – Kathleen in April and May and myself in June and July.