International Polar Bear Day
Still on the polar bear theme - if we are not careful and keep on exploiting resources for greater bottom lines we will lose the polar bear and other species entirely other than to see them in zoos or museums or on film. And who knows how many still undiscovered plants or creatures we will never see or understand. So here for International Polar Bear Day is Polar Bear Plunge. This hanging is now on its way home from New Zealand where it was part of the Fibre Art Network Canadiana show.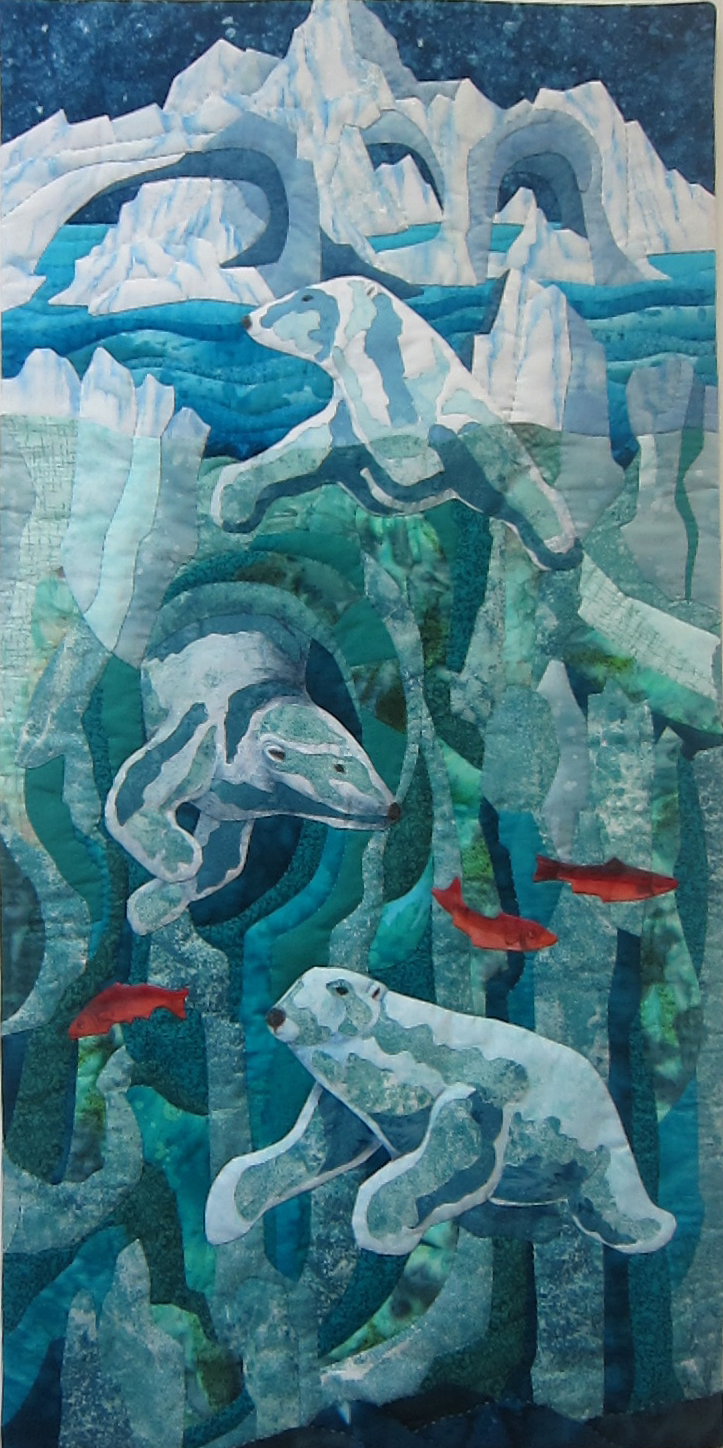 Well it seems I will just manage to get in my blog for February! It has been as usual a busy time - two shows came down one went up – For the Love of Craft (Manitoba Craft Council) and The Prairie in Fibre (Saskatchewan Craft Council) came down and Last Call at the Hall on the Piano Nobile Gallery at the Winnipeg Centennial Concert Hall went up. All three group shows. Last Call at the Hall will be seen by anyone attending any of the concerts, plays, musicals, ballets at the Concert Hall until the end of April.
Whenever I start back in the studio after a "do nothing" period I have to get myself back into production by working first on something small or something that is very restrictive in its nature. When I first started painting I would limit myself to only two or three colours of paint and the variety of hues I could make from them. With fabric that is a little more difficult unless you have a gigantic stash. So this year I started by thinking small and of Spring and the fact that the first blossom to poke its head out of the vanishing snow in a few weeks time will be the Scilla. Here is part of the design and a part of the finished piece.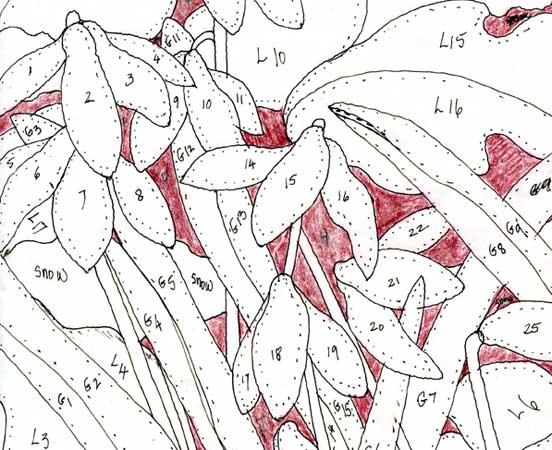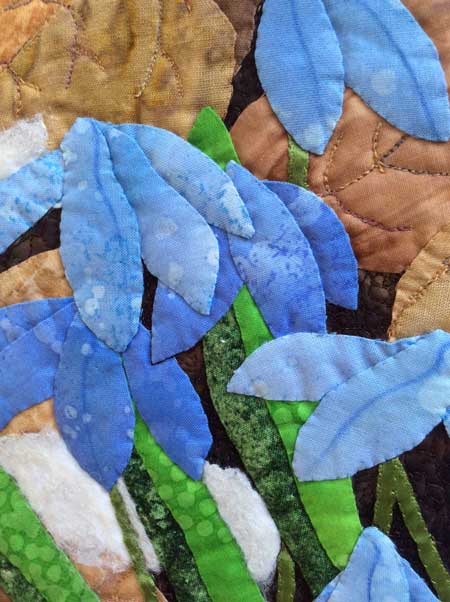 Since I finished the Scilla I have been working on several designs for my next fibre pieces, most of them with the environment as the original thought but with a different twist. All my life I have been fascinated with jigsaw puzzles. The problem with the ones that came in a box was that I always had to clear them off the dining room table or find that I had lost the final two pieces. With the computer that never happens! This is the lead up to the fact that I am trying to make a jigsaw puzzle from fibre. Nothing more than lots of drawings to show so far but stay turned I will keep you informed of my struggles and triumphs.