Renewal
Quite unbelievable as I had read a book that mentioned that orchids only bloomed once a year and as mine had kept the first sprays of blossom for close to two months that seemed probable.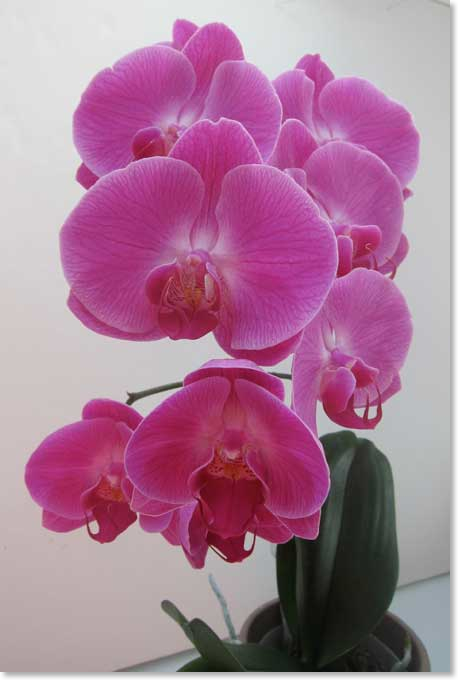 I'm afraid to say that here it is the end of July and I still haven't started on my hanging for Ekphrastic. Have done more scribbles but nothing is grabbing my attention. There are so many verbal images. Much research has been done – on other poems, on visuals and thoughts of colour but ……. Hopefully by the end of August I will be working on it.
I have all three of my other hangings at the quilting stage and have at least started all three. However the weather here in Manitoba has been very hot and humid – not exactly the time when you want to be sitting and hand quilting on something that just spreads or holds in heat.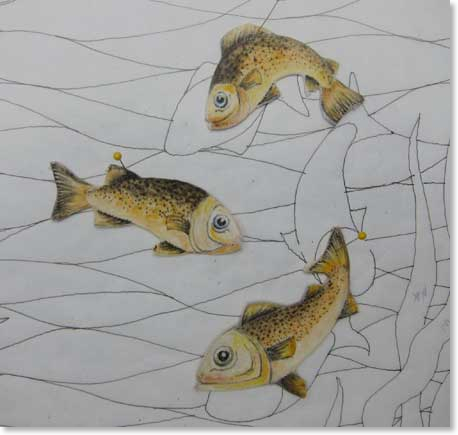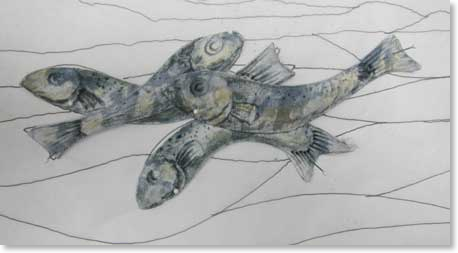 I have spent some time painting fish – both dead and alive for my water piece. I had bought some Inktense pencil crayons several years ago and hadn't really given them a work out. Recently I've been working with them as pencils, using water to spread the colour and also with a textile medium which darkens the colour without letting it bleed into the surrounding fabric. I have also been using them to draw some bees – yes I have now started a couple of very small hangings!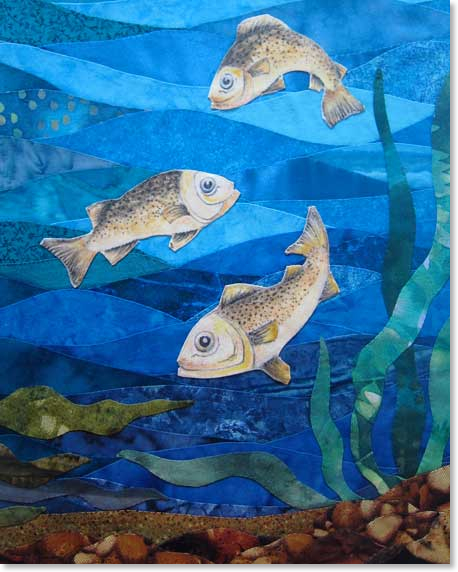 The design mind works so much faster than the physical body can complete the work. My stash of UFOs grows by leaps and bounds.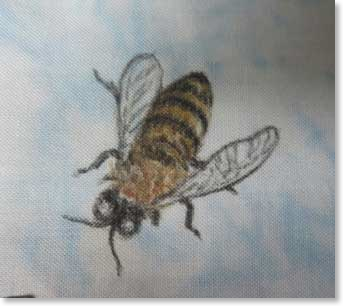 I had shown my water hanging to my younger grandson mentioning that I was thinking of doing some rain drops to signify acid rain and he told me I should use green to show the acid part. Using Inktense pencils on TAP you can see it works well.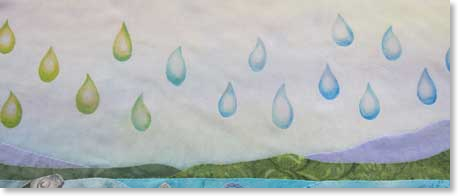 Yesterday I had a planning meeting for next year's retreat for Fibre Art Network. FAN is a group of Western Canadian professional fibre artists who meet and organize exhibitions via the internet and once a year meet in person for four days, each province taking a turn to host. The last one in Manitoba was in 2010 – that was my first retreat. Hopefully many of the FAN members who live in other Western provinces will take the trek east to visit us.
In two weeks Kathleen and I are off to Saskatchewan to take in the Weyburn Fibre Art Destination 2015. It should be an interesting visit as there are several galleries showing fibre art as well as various businesses hanging work in their establishments. Quite an amazing feat to have an entire community take part in a fibre art exhibitions for two months culminating in a five day fibre workshop taught by Martha Cole. But more of this journey in next months blog.