For the most part we have had good weather for the month, some cold rainy days, some fine and sunny with not too much wind (no snow!) but I have been so busy that I have been unable to really appreciate it. Within three days Kathleen and I will be hanging our work for our show in Wayne Arthur Gallery so that has occupied most of my time as I struggled to get everything finished, organized and ready to hang.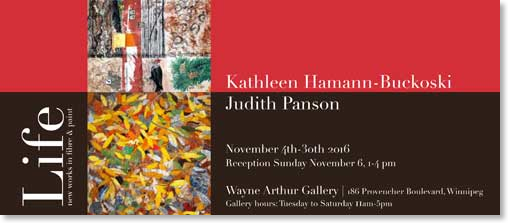 Here is our invitation designed by my son and his wife (parents of the pumpkin carver)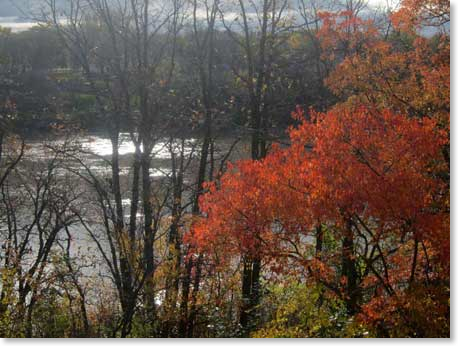 Until the last few days the Amur Maple has been its usual magnificent self. Its one of the last to lose its leaves and no matter what kind of weather we've had always produces a vibrant show. The bellflowers are still valiantly trying to produce enough flowers to get some seed. The willows are still hanging on but most of the leaves are down, the geese are eating frantically and huge flocks seem to be on the move south so I guess the snow won't be too far off.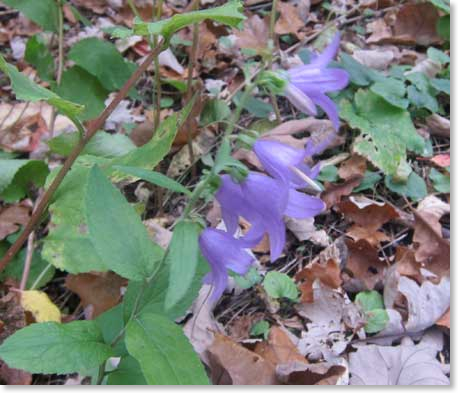 The month started with the FAN Retreat here in Manitoba. It was good to meet new members and to see so many fibre artists who I haven't seen since the last retreat I attended in Naramata, BC in 2011. There were 38 of us and the work that was shown was incredible. They are such a creative group and the five days certainly gave us all lots of inspiration. However I did find it quite tiring as we met for at least twelve hours each day and I don't think the others would have appreciated me sleeping during the various workshops and meetings! One very enjoyable workshop was given by Heidi Hunter of Runs with Scissors the other was for Zentangle, which I found was amusing to do and also that it has very definite rules to follow.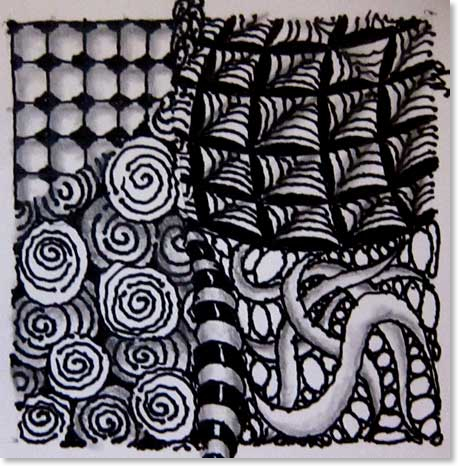 Ten days after the retreat an artist friend visited and brought some of her painted fabrics to show me and she had also brought some of her dyes for me to try – here is my first attempt and it was so much fun that it lead to me ordering some tsukineko inks for myself from Dharma Trading.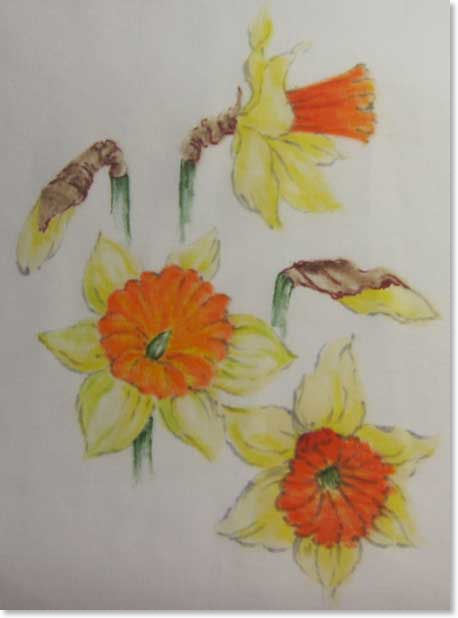 I am finding them much more difficult to control than when I played with Krista's but lots fun anyway and I am sure once I have managed the art of slowly building my colour they will be something that I will use often.
The opening of Ekphrastic was unfortunately postponed owing to a typhoon that was supposed to hit the west coast October 15 – however the exhibition has been very well received with many good comments. I would be very interested to hear how the poets found the work that their poems inspired.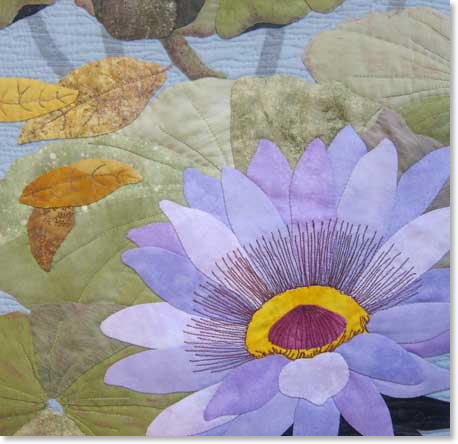 I have almost finished my orchid hanging , only have the actual hanging sleeve to complete and am getting closer to finishing the water lily. They will both have to be sent off within a month.
Last night I finished the last few stitches on my piece that I have decided to call Lammas – I started it right at the beginning of August. Years ago, in Britain, the first day of August was Lammas Day and was celebrated as a harvest festival – hence the title.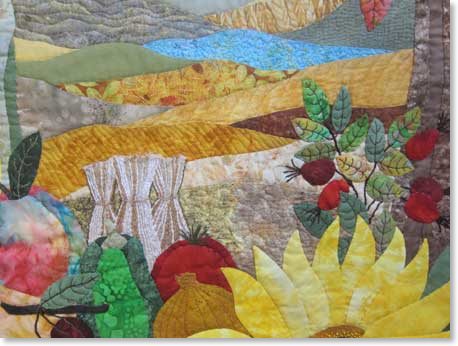 This hanging has much more machine quilting than I usually use and trying to think how to do a binding for a curved top was quite challenging. I bought several stiffening items but in the end decided that if I did heavy machine stitching it would be stiff enough to hang straight – we will see once it is on the wall.