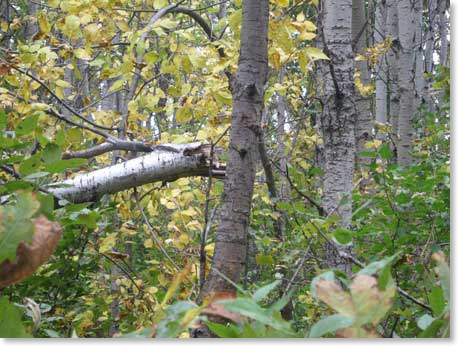 Unfortunately with the stronger winds we lost several trees when the gusts literally snapped the top twenty to twenty five feet off them and dropped them onto other trees. Makes for very difficult cutting and certainly makes for a more hazardous ramble through the bush pathways! Even with the stormy weather the fall landscape shows its beauty.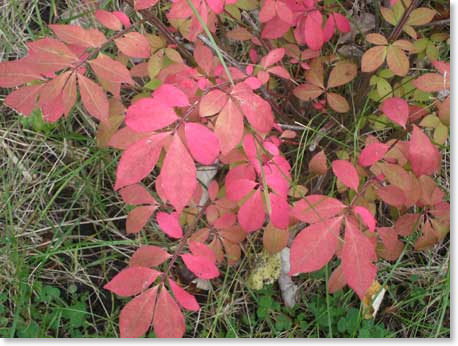 The wet conditions meant the early leaves went brown instead of their usual brilliant yellow but every now and then in the bush it is possible to find brilliant foliage, the fiddlehead ferns look rich in their decay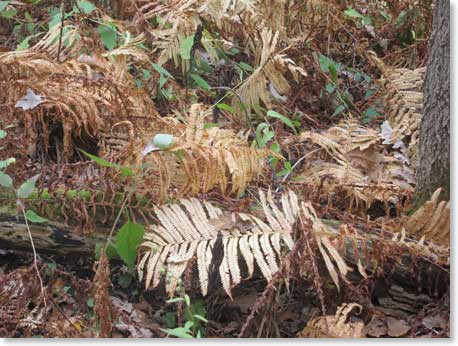 and although the night time temperatures are much colder some European Bellflowers are still in their prime.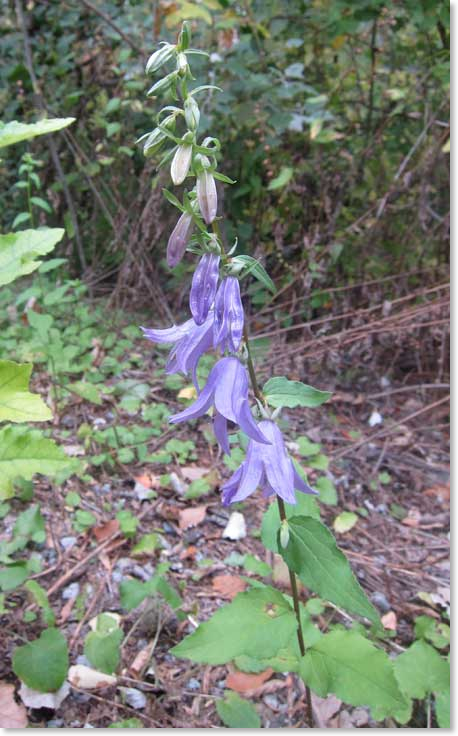 It has been a busy month as I get closer to my show in November. I have been doing more work on the two hangings I am entering in the FAN show Botanical Reflections in Vancouver in January 2017. I have both pieces now at the quilting stage and as you can see I did find an idea to use some of the beautiful fabrics I bought last month - I decided to make another water lily hanging – totally different from Moonlit Lily Pond.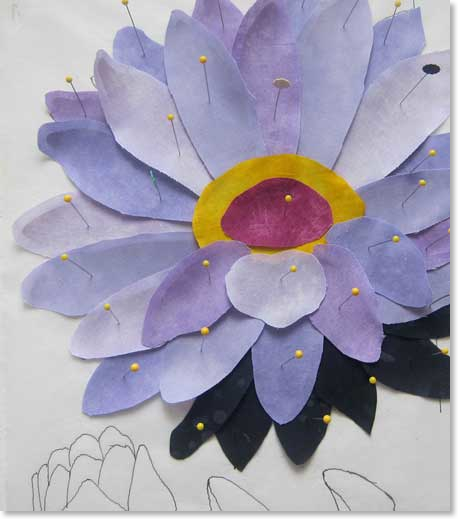 I tried many things to give the look of copper and finally used some actual copper strips that I bought at Lee Valley. They are used in the garden to deter slugs! After I had cut my shapes and glued them to my fabric I then stitched them down using a copper thread – I'm sure it totally destroyed the needle although it only had a short way to go.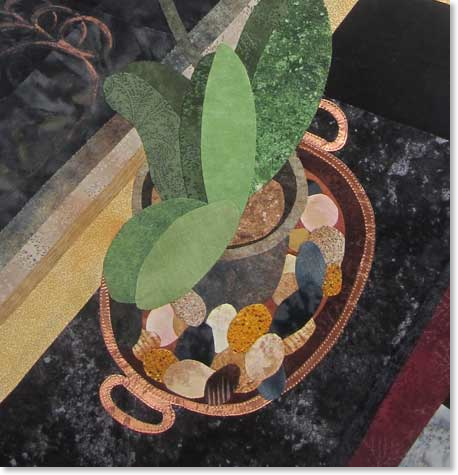 There is a curated show taking place at the end of this month – the Manitoba Fibre Festival is having a juried exhibition to showcase the diversity of fibre art in Manitoba. I was fortunate to have two pieces accepted and I am looking forward to seeing the work of the other artists.
I finally finished my depiction of petals strewn by a storm and got it onto the canvas – it will hang like a regular painting.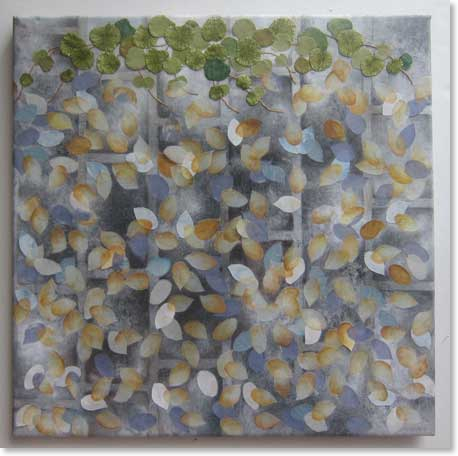 I am hoping to finish one more piece for my show – but have only about six weeks in which to do it. It started off being called Lammas in my mind as I did the drawing in August – we will see what develops.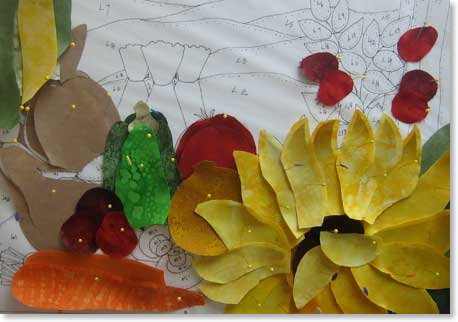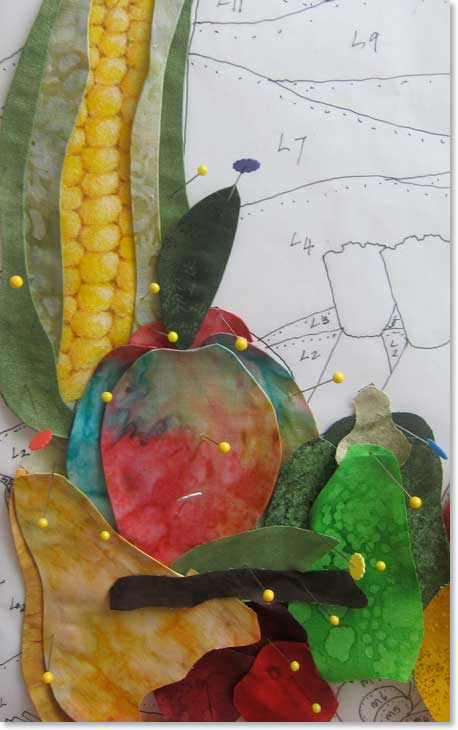 I have all the objects cut, lined where necessary, edges turned and even some sewn down but have been having trouble deciding how I am going to make my stooks .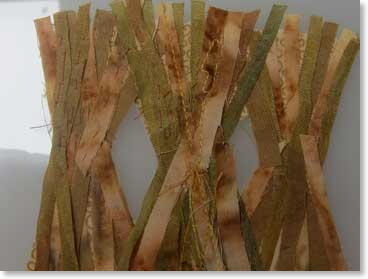 I tried using glue and ribbon, glue and strips of fabric – now I am trying embroidery floss ,paint , pencil crayon and small pieces of artificial foliage … we will see what develops.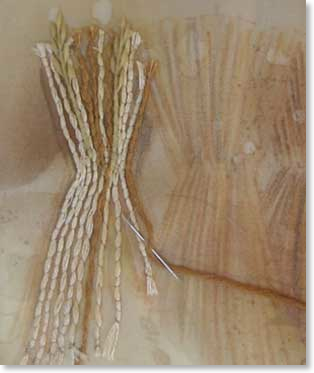 My little orchid is once again sending out shoots. Nothing to really to show yet but it looks like there might be two branches with blossoms on them. Totally amazing.
Had an enjoyable afternoon at the Selkirk Community Art Centre – Selkirk is going to do a mural to commemorate Canada's one hundred and fifty years as are several other small towns/cities across Canada. The idea is to have people paint a small four inch tile in either hot or cold colours. The tiles will then be put together to form a large picture. I have seen similar murals done this way on the web and they are quite incredible. Hopefully ours will be too. I decided to paint a wave and so used blues and purples – my tile was to be half light and half very dark. So if you are in Selkirk and the mural is finished look for a tiny wave.
While I was in the art centre I had another look at the exciting work in the Members Show – it continues until the end of the month.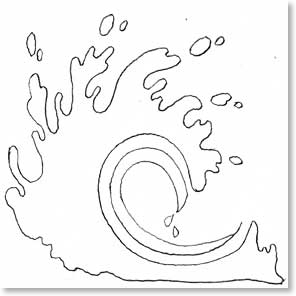 We had our last meeting last week regarding the FAN Retreat which is coming up fast. I had thought it was weeks away – after all it's not until October – and then I received an email that ended with – see you next week!! It will be good to see some of the artists who I haven't seen in a couple of years. Fan membership is about eighty but only thirty will be making the journey to Manitoba. It will be a busy but enjoyable five days.