Well once again it has been a strange month weather wise but the main constant has been rain. And have we had torrents. It is not possible to walk in the bush as it is under water – much deeper than with the winter melt. The mosquitoes are loving it, heat rain what more could they ask. I swear some of them are large enough to harness.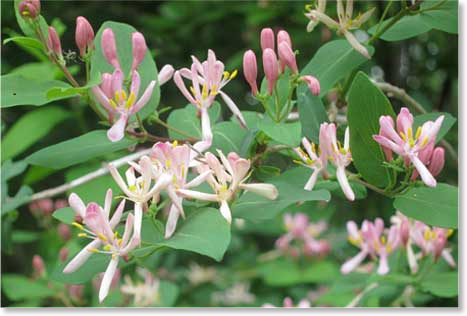 The rain and heat however have also been wonderful for the flowers – the honeysuckle was wonderful – even though it is a totally different plant than the one I grew up with in England. The earlier lilac has been followed by the Chinese lilac, the wild roses, the philadelphus and the yellow lady slipper.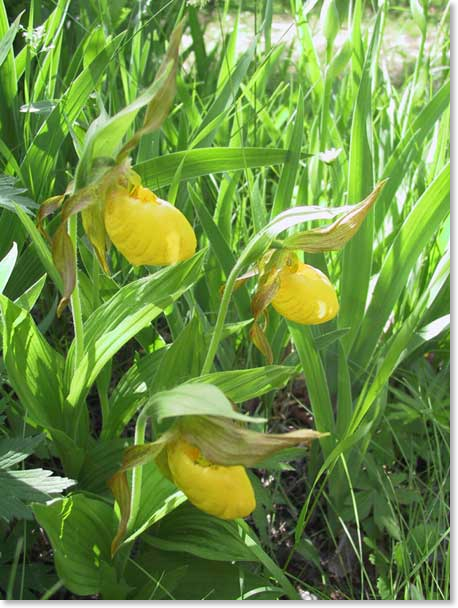 As the summer continues the colours of the blossoms get brighter and brighter.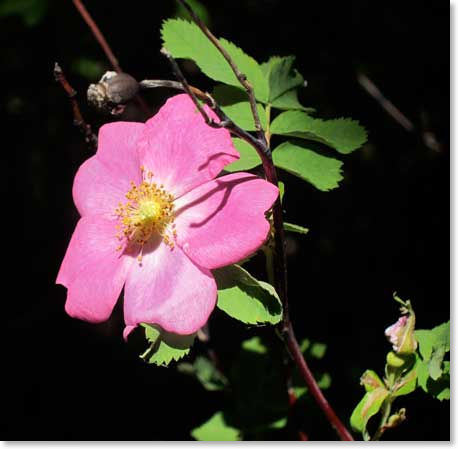 We've had many different visitors this month – deer, a resident groundhog and the family of foxes are still hanging around. The crow parents finally threw them out of the nest which was close to the house and it was amusing watching them stagger around the deck and finally attempt to fly back to the trees. The three young birds are still hanging closely together and wake us early in the mornings with their loud cries.
I am still experimenting with dyes, pencil crayons and Shiva paint sticks to get the look of my fallen petal hanging. In the meantime I have been working on the one that I started calling The Game of Life. The design as usual has changed a lot from my original idea.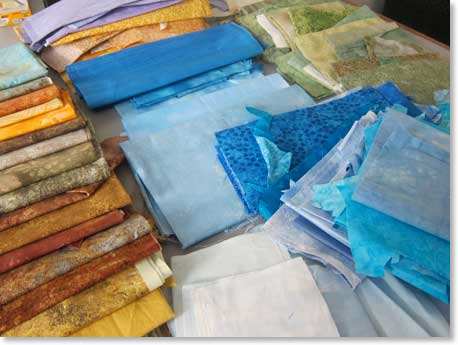 These are some of the fabrics I chose to use and using silkscreen and TAP paper came up with the finished plan. The screen I used was left over from some hand made paper experiments. I used the curtain material I am using for my fallen petals and held it in place with electrical tape!!! Experiments indeed.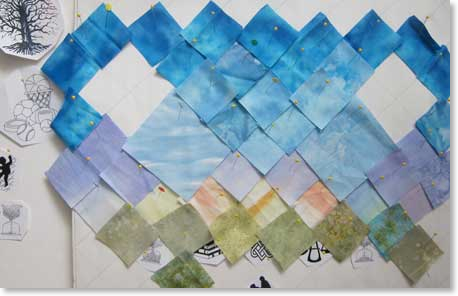 The corner trees were screened onto cream cloth and the coloured background rainbow rolled on to give the variegated colour for each canton. It proved much more difficult on cloth than on paper as I had to give the ink several pulls of the squeegee – on paper you only ever do one pull.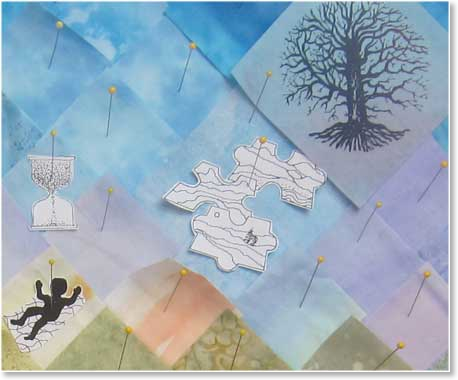 Transfer Art Paper was used on all the other drawings that I had done using ink and then scanned into the computer in order to print on to the TAP.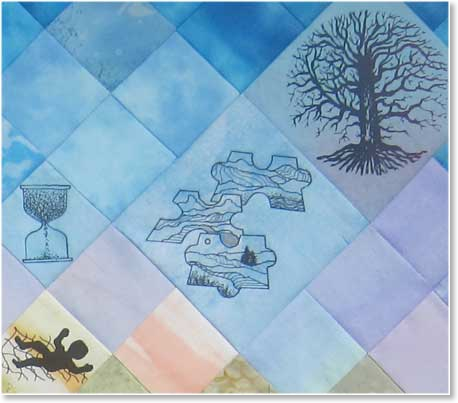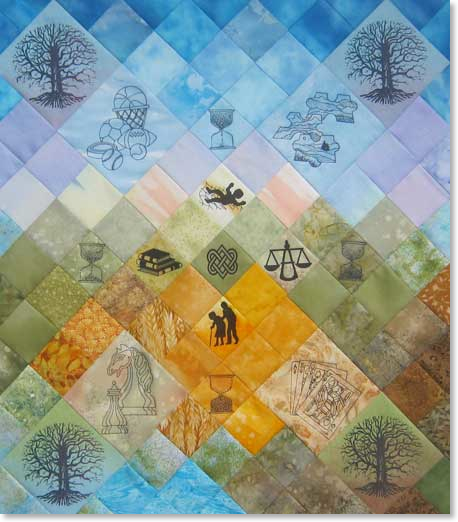 After assembling the piece by machine I then drew a simple line landscape by hand couching – using several different thicknesses of crochet cotton. I have hand quilted around the diamond shaped pieces and the final idea is to machine quilt different textures for the various fields for the rest. That will happen when I get my sewing machine back from its tune-up!