Tuesday December 29 2015 Filed in:
weather snow quilting shows
Though reading through all twelve of the blogs I seem to have written mainly about the work I am doing and the weather! Obviously I must do more work to get further inspiration. It is totally amazing to me how some people write several blogs a week. They must lead very exciting lives.
The night after I published the November blog the temperature really dropped – and by morning the river had totally frozen over – it hasn't looked back! It is now constantly in use by people on snow mobiles or ice fishing!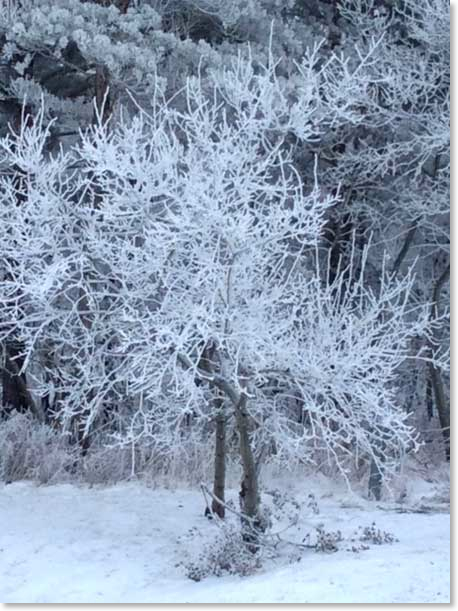 As it got colder we had some fantastic displays from the hoar frost – who needs Christmas decorations when nature does such a good job.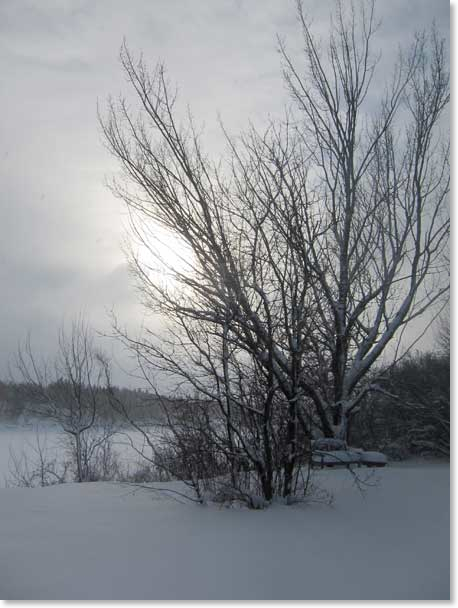 We had a week and a half of fairly pleasant weather and then we started getting snow. The birds have been going crazy at the seed feeders and the animal tracks in the garden show that there is still a lot of movement outside no matter how cold it gets.
The last snowfall dumped quite a pile and when I went for my ramble through the bush it was up to my knees. I guess I won't be doing that again this winter unless I find a pair of snowshoes. The only wildlife I saw was a little dark brown vole who came up from under the snow to see who was making all the noise - unfortunately he dived down again before I could take his picture!!! I never have my camera ready when I need it - it always seems to be in my pocket - or I am so fascinated by what I am seeing that I forget that I have a camera in my hand!!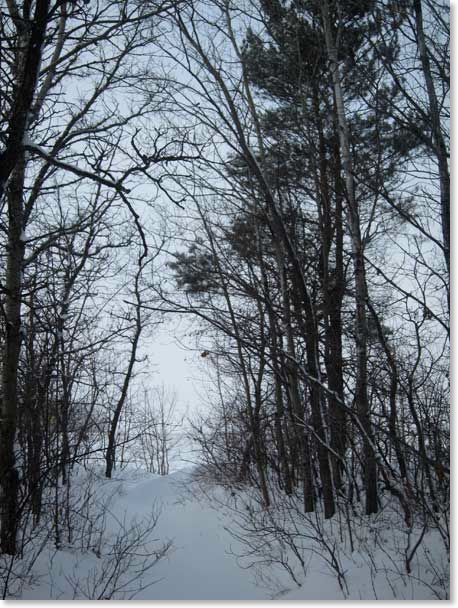 This is the same path I have photographed for the last couple of months!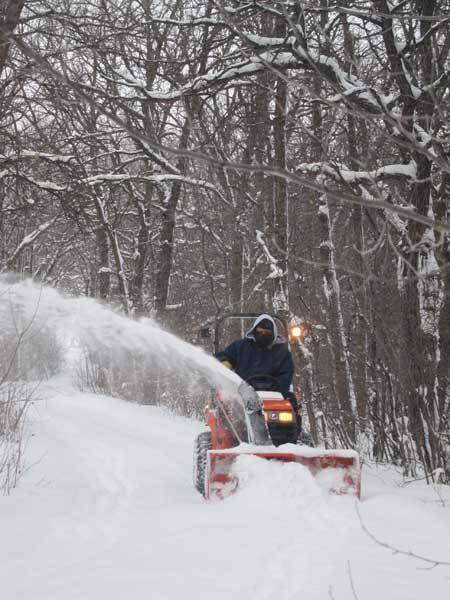 I had finished all the hand quilting by the beginning of the month and then had completed the sewing machine quilting – then the arthritis in my hands kicked in and everything came to a stop. What with the holidays looming I didn't get back to any work until yesterday when I managed to get the quilt measured, cut to the exact size and the binding machined on. I now have to hand sew the binding, make the hanging sleeve, sew on any embellishments, use the gold leaf and foil and finally decide on a name and sew on the label. Not much – by the end of January ………?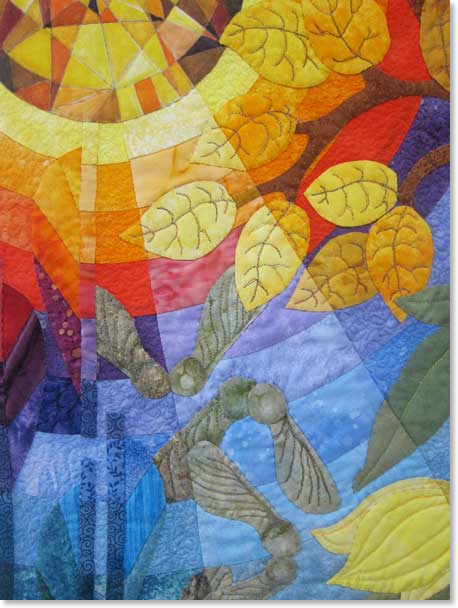 This coming year will be quite busy. Locally I have two pieces in the Manitoba Craft Council "For the Love of Crafts" show at Cre8ery Gallery – with the opening reception January 22nd 7 until 9 pm. The show runs until February 2nd with a Craft Talk facilitated by Lisa Wood January 30 at 2 pm. I have several pieces going in the Gaynor Public Library in June. FAN has its yearly retreat here in October – the last time it was in Manitoba was in 2010. Kathleen Hamann Buckoski and I have a mixed media show "Life" at Wayne Arthur Gallery in St. Boniface from November 4 – 30 with the reception on Sunday November 6 1-4 pm. All that is not taking in any shows that I might exhibit in organized by the many art associations to which I belong like Manitoba Society of Artists and the member shows at the Selkirk Community Art Centre. My Ekphrastic quilt has to be completed and sent by the beginning of March for a show in Le Conner, Washington in October – not sure of the date and time of the reception yet. I have work in various FAN shows across Western Canada – Abstracted, Canadiana and On the Wind Travelling Exhibit and so my creative life goes on.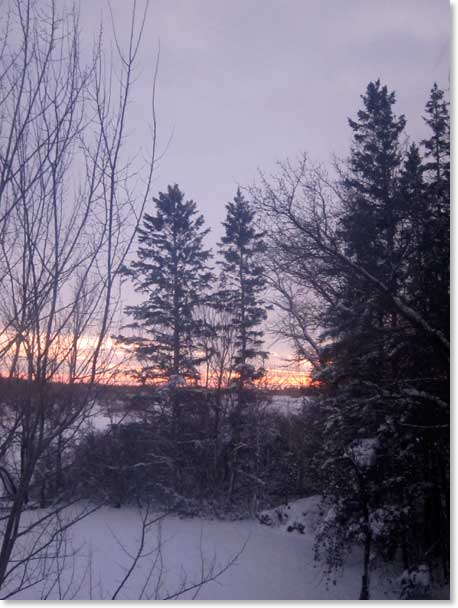 On that note I will wish everyone a safe, happy, healthy and creative 2016.