If I am busy I can't get into trouble!
Tuesday February 26 2013 Filed in:
Visual Art
| Exhibitions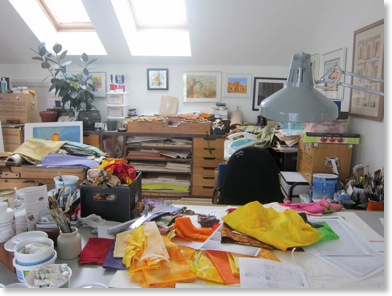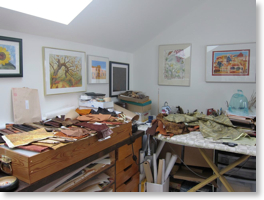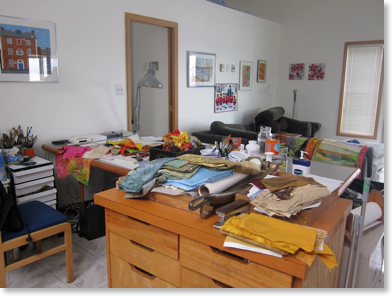 The studio is looking extremely untidy at the moment - though I assure any visitor that I know exactly where everything is!!! I am working on three fibre pieces at the moment - all of them totally different and involving different types and colours of fabrics. One hanging is for a SAQA Western show for children in Alberta about various fossils found in the Burgess Shale. That piece is finished - just needs a label and some written information.
The second is for a juried show in La Conner Quilt and Textile Museum in Washington State - it is together with another artist - one piece is abstract and one more realistic. 'Abstracted' will explore the development of a subject from a realistic image to one that illustrates the essence of that subject in an abstract, or in a non representative way. I am working with Kathleen Hamann-Buckoski. She is working on the abstract piece and mine is more realistic.
The last piece is a commissioned piece and is much larger than the size I usually work with. It is as usual a nature theme - a woodland scene and will consist of three panels for a completed piece 8 foot by 4 foot.
My husband says if I am busy I can't get into trouble!